Bankruptcy & Estate
Planning Attorney in
Northeast, Wisconsin
James Vomastic
Attorney at Law
Since being admitted to practice in 2003, James Vomastic has assisted countless clients draft estate plans and file for bankruptcy protection. Beyond his work at Vomastic Law Office, James owns and works on a dairy farm with his brother. He's well aware of the financial stress and uncertainties that the current economy can instill in his clients, and he strives to use his background to help other individuals and business owners move forward from any struggles. If you're seeking to renew your peace of mind about the road ahead, reach out to James today.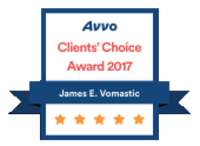 Attorney Vomastic built his practice with a mission for helping people overcome obstacles that stand in the way of their ideal future. He offers skilled assistance for Chapter 7, Chapter 12, and Chapter 13 Bankruptcy cases, and guidance for wills, trusts, and probate processes.
Jim never made me feel "bad" that I needed to file! I highly recommend him for a lawyer!
— Carna
01
One-on-One Service
When it comes to estate and bankruptcy matters, you deserve to work with an attorney who gives you focused attention. Attorney Vomastic will work with you directly and make your goals his main priority.
02
Knowledgeable Advice
You're likely already feeling uncertain about what the future holds — it's important to choose a lawyer you can trust. When you work with James Vomastic, you'll receive effective guidance backed by experience.
03
Collaborative Strategies
Your thoughts and opinions matter, especially when you're looking to restructure your finances or estate plans. Attorney Vomastic will encourage and listen to your input and build a strategy accordingly.
HERE TO HELP YOU
Take Control of Your Future
The challenges you're facing today shouldn't define your life. When you're dealing with overwhelming debt or uncertainty about how to go about your estate plan, you need a down-to-earth lawyer who understands the fears and hardships associated with your situation. James Vomastic is here to deliver the dependable advice and high-quality representation you deserve.
Estate planning and bankruptcy attorney James Vomastic serves clients throughout Shawano, Green Bay, Appleton, Waupaca, Oconto, and Brown County, Wisconsin.
Whether your needs fall under the realm of bankruptcy, estate planning, or general legal counsel, it's important to work with a trusted attorney who cares about helping you pursue your goals. Attorney James Vomastic offers free consultations for Northeast Wisconsin citizens who seek guidance for estate administration, Chapter 7 Bankruptcy, Chapter 13 Bankruptcy, and more.
No matter what struggles may be at play, you deserve a skilled advocate to fight for your ideal future, so give Attorney Vomastic a call today at his office in Shawano, Wisconsin.